Light and Dark:  Last night after I posted, I walked out on the fishing pier and saw people catching fish as fast as they could throw in their lines.  They told me that mostly these were sea or ocean trout.  They were a metallic silver color with some nasty little teeth that were hitting on just lures.  They sparkled as they neared the surface of the dark water, as if they were covered in tin-foil. Also out in the bay, just beyond the lights that shone on the green water, were pure white pelicans with long orange beaks, just floating and bobbing on the waves. I am used to seeing the brown pelicans, but these white birds were almost fluorescent when the light shone on their feathers.  The photos do not do them justice, but I used every possible setting and could not get a clear picture of what I was seeing because they were right on the cusp of light and shadow and were also moving and I have a modest camera for all that challenge. We had rain during the night and the clouds were low and gray when we left for our trip to San Antonio, but as has been par for the course of our trip, as we got 10 miles out of our final destination, the sun broke through and we never saw a cloud again this evening and we watched the moon rise over the Alamo.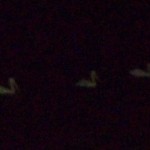 Conservation and Exploitation:  We had to go through Galveston and Houston and we were amazed at the shear scope of the oil industry in this region.  Of course we all know about Texas oil and refineries, but as far as the eye could see there was a testament to our nation's gluttony and dependence on fossil fuel.  We did have one advantage of paying about 15 cents less for a gallon of gas and it WAS a technological marvel of engineering – but it was also sad in a way to see how much of the land was gobbled up by industrial and toxic manufacture and storage.  But, I guess that is a hypocritical view since we WERE travelling in an RV across the country, so we have no right to judge.  Gas guzzlers unite!
Dry and Moist:  This area has been suffering from a severe drought, as was evidenced by the many dry creeks and riverbeds that we crossed.  But at a road-side rest area, I tok the nature walk to stretch my legs and found evidence of succulents and berries and trees that had managed to eek out what little moisture there was and gave us a display of color and life.  Their fortitude was admirable.
The Haves and the Have-Nots: We got into San Antonio rather early and as we did, the ominous clouds disappeared and the sun came out in full glory, so we showered and took the city bus into town.  We were obviously the only two "tourists" on the bus.  Most of the others appeared to be coming home from work and looked tired and bored.  The bus went through the poorer part of town and at each stop, people of color trudged off so they could get some dinner and sleep and then start all over again.  I overheard some say they were going to their 2nd job and some were going to church services and others had to retreive their kids from friends and relatives who had watched them for the workday. By the time the bus got to Alamo Square in downtown, we were the only ones on the bus that had started out full.  Downtown San Antonio and the RiverWalk area were a far cry different than the neighborhoods that we had gone through to get here. There were great and beautiful buildings, monuments and artwork. Police patrolled the areas to keep out the riff-raff and people dressed in fine clothes scurried to make their dinner reservation time-slots.  Recreation was on their minds, not the decision about bologna or PB&J for lunch tomorrow…
Tourists that we were, we eventually found our way to the RiverWalk and went down to stroll with the others.  Dinner was Tex-Mex and Dad had a mondo Margarita, so I think he will sleep well tonight.  We are fortunate to be able to spend the time and money to make this trip and it was days like these that make us appreciate that even more.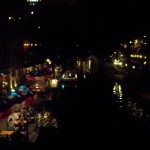 Tags: road trip