Today was dedicated to the past as we strolled the streets of Colonial Williamsburg preservation/restoration area.  It was a misty and overcast weekday, so the crowds were at a minimum. The period houses and storefronts were very authentic and augmented by cast members in authentic dress and manner completed the package. Dad enjoyed touring the gardens with its variety of herbs, bulb flowers, vegetables and sun flowers which were not at the peak of their season, but he appreciated them just the same because he understands the changing of the seasons that gardners and farmers endure. We saw real craftsmen and artisans at work fashioning their wares and ate lunch and dinner in reproduction establishments that added to the ambiance (and cost) of the dining experience.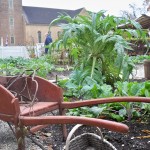 The tour through the extensive museum starts at the Public Hospital (aka insane asylum),
but then turns into a more pleasant journey past pottery, china, silver pieces, furniture, folk art, currency, weather-vanes and signs, portraits and scenic paintings, doll-houses and instruments (to name a few). We spent several hours at this stop.
A courtesy bus travels the perimeter of the park with frequent stops at key locations.  It was on one of these buses that we met a woman and her mother that were traveling together much the same as Dad and I.  The daughter helped her mother with her walker and praised her for walking the full distance of the main street (about a mile – no small feat for a woman with a colostomy, and 2 knee and 1 hip replacement!).  I looked at Dad, with his heavy-duty knee braces and it occurred to me that I admired both of these seniors for pushing themselves to enjoy life experiences despite any handicaps which make that difficult. It is to people like these that I dedicate the words of the day as a quote by Thomas Jefferson in 1763, "The most fortunate of us, in our journey through life, frequently meet with calamities and misfortunes which may greatly afflict us; and, to fortify our minds against the attacks of these calamities and misfortunes, should be one of the principal studies and endeavours of our lives."
I hope that both of them will have many more years to enjoy many more experiences and that both of us daughters are there to enjoy it with them.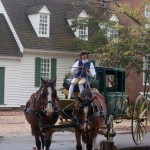 Tags: road-trip