We woke up to a cold, crisp morning that required some of the oatmeal that we had purchased in a farm store at the head of the Outer Banks.  The squirrels were back to throwing nuts, so we thought it time for these two nuts to break camp and head for Greensboro, which was a rather short journey.
We found our campground in Hagan-Park which is a very nice, affordable and clean recreation area that is managed by the County.  We treated ourselves to hot showers and then were off again to visit with one of Dad's boyhood friends and his wife.  I titled this "blogette" Visiting Roots not only because Dad was reconnecting with a friend from his past, but also in homage to this amazing couple who have embraced all things natural (avid gardeners, bee-keeper, wood turnings, baskets, baking, re-establishing spent apple orchards, and all around supporting sustainability); all things intellectual (voracious readers, initiators of a book-club, educators, ife-long students and travelers); and all things morally right (local and national campaign advocates and volunteers, letters to the Editor, and truly working at a grassroots level to help turn this country around). Together, throughout their 50 years of marriage, they have planted many seeds of family, of harvest, of education and of patriotism that have taken root and thrived. I admire them – we need more of them.
A delightful day was spent reminiscing and catching up. Our steak and twice-baked potato meal was accompanied by a homegrown salad and dessert
consisted of homegrown home-made blackberry pie (ala mode). A jar of their
harvested honey was a gift that we will enjoy. Gardening tips were shared (with Dad of course because those of you, that know me, know that I have a black thumb…), old photographs emerged, books were borrowed and recipes were compared(now that is something I know about). They opened their home to us and we felt very welcome. The time went quickly and it was time to go back to camp for some shut-eye, as we have a long drive tomorrow to Point South, just NE of Savannah, Ga.
The quote of the day: Let us be grateful to people who make us happy; they are the charming gardeners who make our souls blossom. – Marcel Proust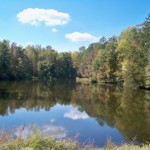 Tags: road-trip