Today, we visited the great city of Savannah, Georgia.  This is one city that lives up to its reputation.  It is quaint, friendly, beautiful and a little naughty.  The architecture, foliage, parks and people provide a colorful and varied palette for any photographer or artist.  It is impossible to see everything in one day, so we concentrated on the highlights.  One of the lesser visited sites we stopped at was the restored Lucas Theatre – a grand lady of the cinema and stage with ornate marble work, plaster castings, golden guild, and luxurious fabrics.  In my hometown, we had the Columbia Theatre which also had lush accoutrements and balconies and theatre boxes – but the Lucas Theatre was even more fantastic and provided a free self-guided tour to take us back to the time when there were no multiplexes or 8-dollar popcorn – it was THE THEATRE.  It is a great stop if you are ever in the city – it would be even better to see a show which is scheduled intermittently throughout the year.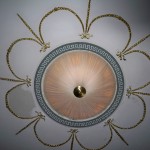 As we strolled along the Greco-Roman military residential squares that were designed by Ogelthorpe (the city's founder), we found one small park after another. They were little oases of trees and green grass and flowers – sometimes with a fountain or a statue or an object d'art. We could sit and forget that we were in the middle of a thriving, bustling city. People were sitting on the benches or the grass and reading or eating or just taking in the relaxing atmosphere. I suspected that these were mostly local citizens (obvious because they were not clenching their city street map and turning it frantically around and around to try and get their bearings, like we tourists).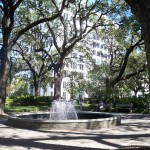 Surrounding the parks were neighborhood after neighborhood of restored colorful and neatly kept homes, businesses and places of worship built in all kinds of various styles. I am not very fond of the Federalist architecture, but I must say that the ones in Savannah were very impressive.  Then there are Greek and Roman styles with massive columns of imported stones and rounded porticos.
Mostly, I preferred the ornamental ironwork which was prolific throughout all types of window and balcony treatments, gates and fences, even rain gutters that looked like fish! 
We also admired that people in Savannah take their yards and gardens seriously. Looking into or over fences, you could see manicured and meticulous gardens, which I am sure would be even more spectacular in the peak of season.
Foodies beware or be in heaven, as the case may be – Savannah is a Mecca of southern delicacies and decadence. You name it – they have got it.  We somewhat behaved but did have a lunch at the Pirate House.  We tried She-crab soup and enjoyed it – much like lobster bisque.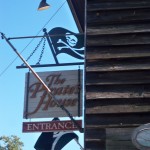 We didn't go to Paula Deen's, but if you are a fan – she is represented here in a BIG way.  We avoided the many confectioners (no Pralines for us) and ice cream palaces and all manners of dessert – now THAT is will-power.
On the way out, I bought a Johnny Mercer CD (a Savannah native) and a copy of Midnight in the Garden of Good and Evil (no, I never have read it but after visiting the city, I want to – so I am).  As we left the parking lot of the Visitor
Center, I popped in the CD and let Johnny's tunes entertain us as we rolled
down the highway to our next KOA. It is only fitting that Johnny's lyrics
provide our WOTD:
Ac-cent-tchu-ate the positive
E-lim-i-nate the negative
And latch on to the affirmative
Don't mess with mister inbetween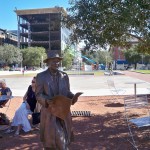 Tags: road-trip