Another long drive was in front of us today, so we had a hearty breakfast with those farm-fresh eggs (that we bought in Thruman) before we set out on our trek.  At the KOA exit, I inquired of the office staff about the picture of the lighthouse that was on our rental.  She told me that it was located on Cape Elizabeth in Portland, so we agreed to take a small detour to see the real thing. I also realized that I had completed a personal bucket-list item…with the drive through Vermont and New Hampshire, I have now visited all 50 US States!  I will admit that some of them were "drive-bys", but I am counting them all the same – so there!
Though overcast on Bar Harbor, as we continued down the coast, the sun showed up again and the leaves continued their fashion show.  We crossed streams and rivers that were brimming to the top – some dotted with docks and small ships with seagulls soaring above them.  At one point we crossed a very modern looking suspension bridge that was directly next to an old iron-rivet span bridge and I thought about the contrast of worn and new, rustic and sleek, old and young and wondered if the old bridge resented its younger brother or embraced the change and, in converse, if the newer bridge appreciated the legacy of that which had come before him…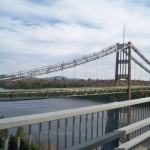 Quaint, patriotic towns continued to pop up on our route and the huge but neatly manicured lawns were a lush green with NO weeds to be seen and often a person tending to it with a riding mower .  Biker riders sprinted up steep hills with seemingly no effort and children played in school playgrounds under the watchful eye of their supervisors. Occasionally, we saw yellow caution signs for MOOSE CROSSING or Snowmobiles or Farm Tractors on our route. People walked their dogs, held hands and ate ice cream cones.  I mention all this because that is what we came to see – not just the whiz of the Interstates, but real people in real places doing real things.  This is  a great country and we need to appreciate that sometimes.
The white, black and red Lighthouse was a striking contrast to the rocky, craggy coast that it was perched upon and the blue waters beyond.  The sun was perfect and a sea-breeze tousled our hair.  I may have annoyed Dad, but I insisted on moving the RV to just the right spot to get our banner lighthouse lined up with the real thing.  He accommodated my indulgence and then we were off to backtrack to the route to Boston.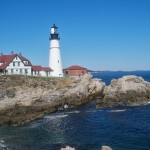 We arrived at our campsite just before sunset, so there was a mad dash to get "hooked-up" before we lost the light.  We are getting pretty efficient at that by now, so it went smoothly.  We were both starving because we had basically skipped lunch to make up driving time.  Since we are technically in Plymouth, Mass (near Cape Cod) – I opted to make a Thanksgiving dinner (in an RV using only 2 pans and a microwave)!  Turkey cutlets with gravy, stuffing made with bread bought on day 1 of our trip, candied yams (recipe to follow – they were wonderful and simple), peas and cranberry juice.  We decided that the word "thanksgiving" would be our word of the day – we have a lot to be thankful for… our family, our friends, our health, our love, our newest addition on the way, the list goes on – we are blessed. Dad will be 75 years old tomorrow and I secretly am thankful that he is still with us and that I can spend this time with him.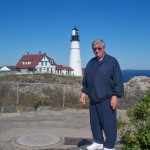 Yams in a Pan  (it was either the fresh farm produce, the fresh air, the fact we were starving or I am a damn good cook – maybe a little of each – but, these were one of the best yam dishes I ever made or ate…)
2 medium yams – washed and sliced into thick slices (1/3″)
3 tablespoons each: butter, brown sugar, maple syrup, water and frozen OJ concentrate
2 dashes of salt and 1 teaspoonful of pumpkin pie spice
Put all ingredients (at once) into a saute pan that you can cover loosely with a lid and stir together to coat yam slices. Start pan on med-high heat until OJ melts and then cover loosely with a lid to let some steam out and reduce heat to med-low.  Leave lid on, but stir occasionally and let out enough steam so that a syrup forms. Turn off heat when yams are fork tender.  Serve and enjoy.
Tags: I Smell a Memory, road trip